Means of transportation are essential to the modern world economy and virtually the entire economic system is dependent. So much so that oil production has transportation as one of its main consumers. Energy expenditure (fuels) is a considerable part of the costs of inputs and products that depend on transport to reach consumers. Design cars, aircraft, trains, motorcycles, etc. that use less fuel is essential to reduce costs and increase the profitability of any business. One of the parameters to reduce consumption is a good aerodynamic design, in addition to ensuring aerodynamic stability when traveling.
Computational Fluid Dynamics (CFD) is an important tool in aerodynamic design and analysis. Using CFD reduces the costs of wind tunnel tests and makes project execution faster. It can also be used in thermal comfort projects inside vehicles, trains and aircraft, in the evaluation of brake systems in vehicles and trains and in studies of combustion in engines.
There are several applications of 3D computer simulations for performance gains.
Among the applications, we can highlight:
Aerodynamic parts analysis, for better energy efficiency.
Thermal distribution analysis in air-conditioned chests, to reduce losses.
Analysis of heating and cooling equipment, for less wear.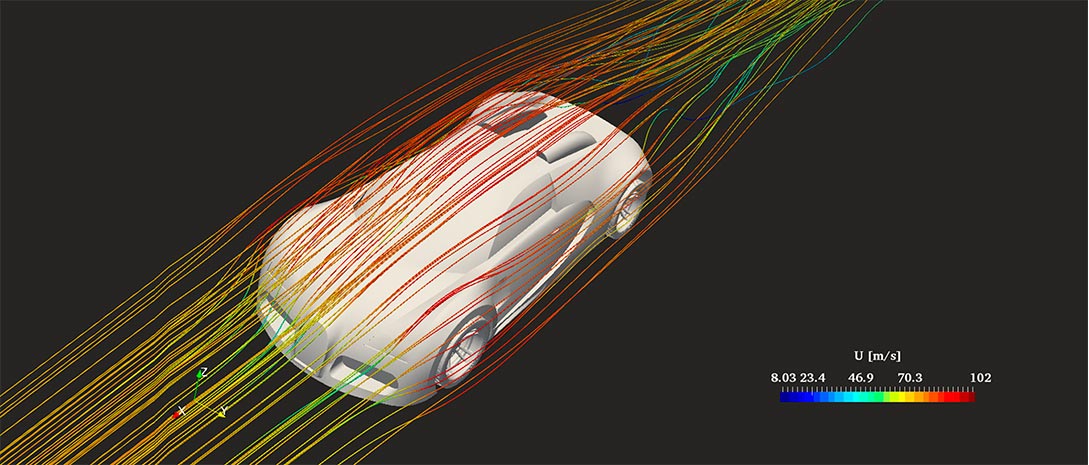 Aerodynamic simulation in a virtual wind tunnel to reduce project costs.
Check out some of the sectors we operate:
Stay on top of the world of prototyping and the most diverse applications
Check out CFD techniques and tips
Despite being a cutting edge technology that is still not well known in Brazil, we

The water treatment through the conventional process goes through several phases and each one requires
Make the difference for your business
Contact us